Heather's Pages
---
---
Hi and welcome to my personal interest pages.

I've always been interested in fabric and how it is made. During my years as a software engineer I also spent time learning about the nearly lost technologies of spinning, dyeing from plants, and weaving. The historical economies of textile production have influenced our current science and technologies in many ways. So, while I revel in the art and expression of creating with fiber, I also wish to study and teach the connections that fiber technologies have with our history and our current world.
My weavings for the past few years have naturally had an emphasis on historical patterns and fibers. I've used weaving manuscripts from the 1600s to the 1800s as sources, adapted them to currently available yarns and colors, and then have woven them on my computer interfaced loom. Sometimes I try to weave a cloth that closely resembles what might have appeared in the 1600s. Or, I will take a historical pattern and modify it to suit the new synthetic yarns and colors.
I value the importance of the creative act of weaving a beautiful cloth and treasure the opportunity to maintain and teach some nearly lost technologies.
I hope you find something of interest here. You should check back periodically because I will be changing things over time.
Some of My Interests
Click on a link to go to an area of interest.

| | |
| --- | --- |
| Weaving | Heather's hand wovens can be seen here |
| Dyeing | Mad and not so mad color chemistry. |
| Other textile arts | I am interested in most things having to do with textiles and fibers. On this page you will see some of these other interests. |
Handpainted warp with pattern from a 1700's German manuscript.
Louet Megado 32 shaft computer interfaced loom with traditional ticking stripes.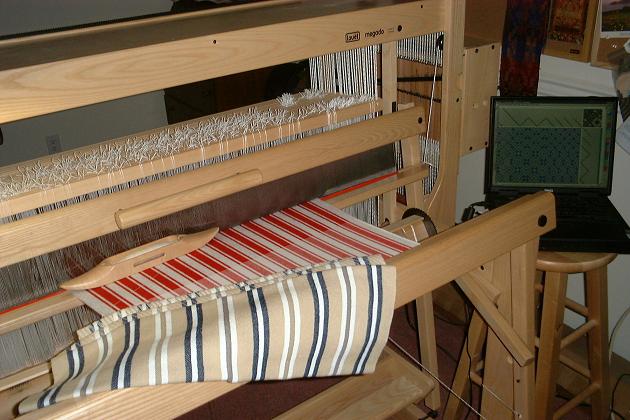 If you would like to contact me about anything you see on our website please send email to: calhjh@gmail.com.

---
---