Edge of Tomorrow CD

---
---
I was in a band in Colorado Springs for about 5 years first called
Hydrogen
and later called
Lesser Mortals
. We played a few gigs but mostly we played to party and have fun. I met Dan Santistevan and the original lead guitar player Rick Boykin while working at ChannelPoint, a now defunct high tech startup company. The band started out as
Hydrogen
with Rick playing lead guitar and became
Lesser Mortals
when Tom Dennis replaced Rick on lead guitar. Dan is a great songwriter so we concentrated on his original tunes. We decided we should record a CD and wanted to use a professional recording studio to do so. Unfortunately professional recording studios cost a lot of money so we spent only a single evening in the studio laying down all of the basic tracks for each song and then taking the tracks to my basement home studio to do the vocals, vocal overdubs and the mixing. I think the results were pretty good but not as good as having professionals do the overdubbing and mixing.
Lesser Mortals
is/was:
Dan Santistevan - singer, songwriter and acoustic guitar player
Tom Dennis - lead guitar player
Jerry Sheffield - drum and percussionist
Craig Lindley - bass guitar, background vocals, mixing engineer for the CD
All of the songs on our CD, Edge of Tomorrow, were played on the radio (KRCC) in Colorado Springs during the summer of 2003.
Here are some pictures from our one and only recording session for the Edge of Tomorrow CD

| | |
| --- | --- |
| | Here is our fearless leader, acoustic guitar player and song writer extraordinare Dan Santistevan. |
| | This is Tom Dennis, the best lead guitar player I have ever played with. Check out his pedal board. Tom has both extensive musical knowledge and an unmatched originality with his playing. |
| | This is our drummer Jerry Sheffield. He is a great drummer who is always experimenting with new and interesting rhythms. |
| | That's me playing bass (a Carvin AC-40) in the corner and Jerry on his drums. Check out how many microphones there are on the drums. |
Here is what our CD looked like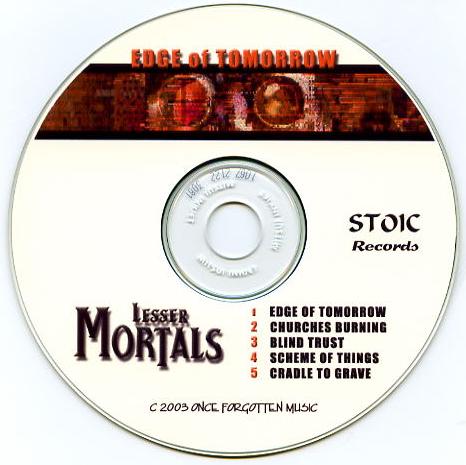 Songs on this CD
| | | |
| --- | --- | --- |
| Track Number | Song | Written By |
| 1 | Edge of Tomorrow | Dan Santistevan |
| 2 | Churches Burning | Dan Santistevan |
| 3 | Blind Trust | Dan Santistevan |
| 4 | Scheme of Things | Dan Santistevan |
| 5 | Cradle to Grave | Dan Santistevan |
As
Hydrogen
we did a CD as well but we never got very far with it. We did however arrange for a photo shoot at the
Starr Kempf
estate in Colorado Springs so off the band went to shoot some pictures for the CD. Heather was the official band photographer and she took the images below. A fun time was had by all.


This is the beautiful Starr Kempf estate in Colorado Springs. We got permission from the family to have our photo shoot there. Dan is a friend of the Kempf family. If you have never been there you should go. Starr Kempf built all of the wonderful kinetic sculptures in his garage and then erected them at his home. One of the sculptures was moved to downtown Colorado Springs near Colorado Ave and Tejon.



Another view of the estate



Here are all of us on the grounds of the estate. Rick Boykin (second from the left) later left the band.



This would have made a nice CD cover.



Another great image.



And another image on the estate.



At the end of the photo shoot, the sun was going down and Heather captured this shot of one of the sculptures. Beautiful isn't it!



Here is

Hydrogen

playing at the opening of the River Rock Gallery in Old Colorado City. A very nice wine and cheese type opening party. At the end of the evening we were invited upstairs to a private party at the Michael Garman residence which was an evening none of us will ever forget.




Hydrogen

playing in the garage in Black Forest.



---
---