Rialta 1 Page

---
---
In December 2012 Heather and I sold our Rialta.
In May 2015 we bought another one. See it here.



In 2005 Heather and I decided we should start looking for an RV to camp in because at our ages we could use a few more creature comforts than our tent and sleeping on the ground could provide. We had spent many a night in the back country sleeping on the ground and in the back of our vehicles. Being somewhat environmentally conscience we could not justify a huge RV that would get 5 to 6 miles a gallon. We didn't want to take our whole house with us we just wanted a more comfortable bed, shower/toilet and cooking facilities.
After some research we came upon the Rialta. This little RV is based on a VW truck chassis with the body built by Winnebago. All of the information about the Rialta said it was capable of getting up to 22 miles per gallon which made having one easier to rationalize. That is as good of mileage as my Ford Ranger truck gets. And because of its small size (22 feet) the Rialta can be parked in normal parking lots along side normal cars.
I then started looking around for a used Rialta as production was stopped in 2005 because VW stopped importing the truck chassis so new Rialtas couldn't be made. A used vehicle made sense anyway because these RV are really expensive brand new. Eventually I saw a 2003 Rialta with 13,000 miles come up for auction on eBay and we went for it. My thought was that a vehicle with 13,000 miles on it should be practically new and the Rialta we bought on eBay was.
We wired the seller a deposit and the took a Greyhound bus to Springfield, Ill. (which was a whole story in itself. Ask us sometime.) to check it out. It was in excellent shape so we bought it on the spot. The man we bought it from was very nice and the whole transaction went as smoothly as possible. Many people thought I was crazy to buy something as big as a vehicle on eBay but it all worked out fine. Both the buyer and the seller were happy.
Unfortunately while driving it home through Kansas we found out the air conditioning wasn't working. This made for one miserable drive back to Colorado in the 100+ degree heat. Fortunately the vehicle was still under warranty so we got the AC fixed for free.
After buying the RV we drove around Springfield and stopped for a tour of the Dana-Thomas home which was designed by Frank Loyd Wright. It was a nice tour of a very well preserved home with outstanding architecture and amazing stained glass.
Our first night on the road home from Springfield was in Hannibal, Missouri the home of Mark Twain. We parked the Rialta in our first RV campground. We took the three pictures below of our new baby. What struck us immediately was the small size of our Rialta compared to the other giant RVs in this campground. We think we made the right choice.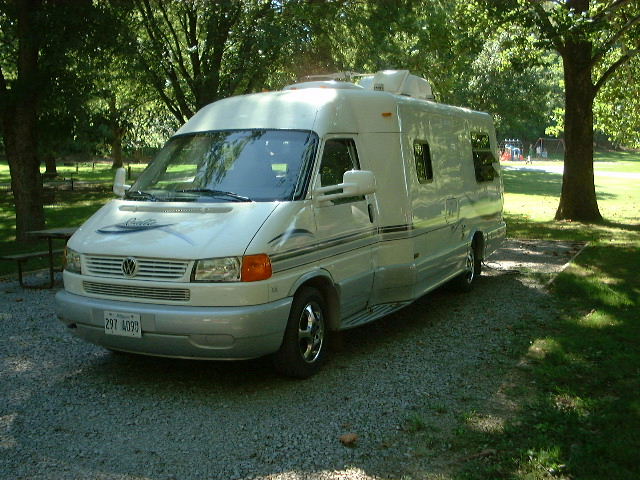 Isn't she sleek and stylish?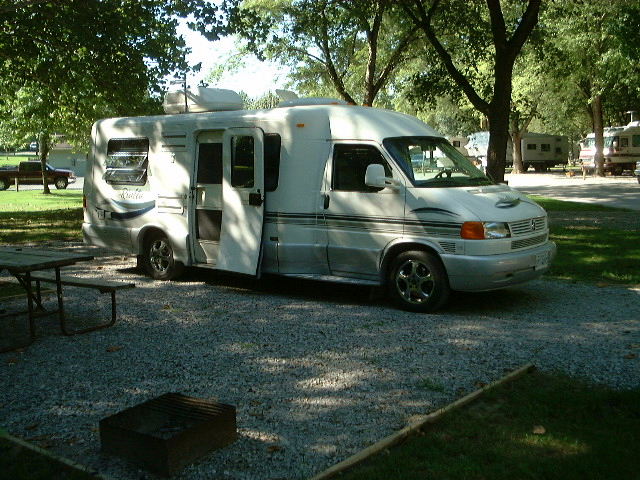 In this picture you can see that we are plugged into AC (shore) power. The Rialta did have a TV but we have since removed it.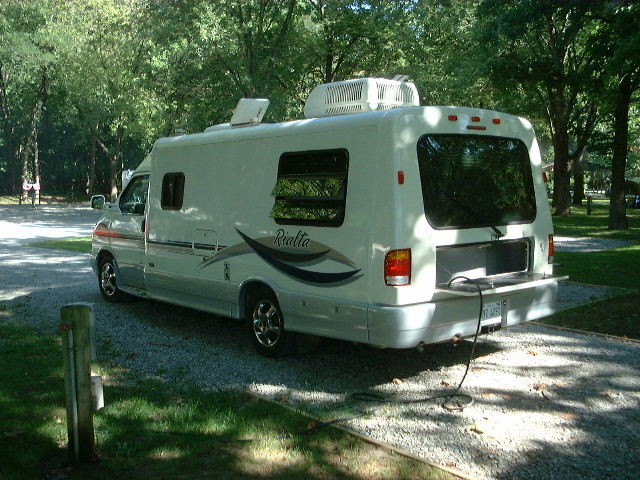 The picture below was taken on our trip to the
Great Sand Dunes National Park
in the fall. With Heather to add scale you can see just how small our RV really is. In this picture we parked the RV on a back road near the national park and spent the night. I think we had a nice bottle of wine and I even got to play some guitar in the back.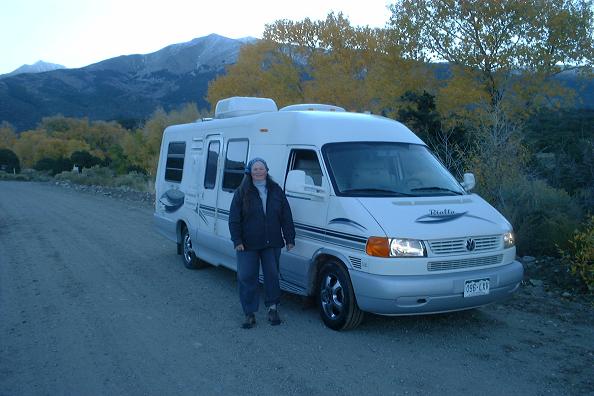 Below is a picture of our Rialta at Dillion Lake in the fall of 2007. We are camped here because all of the camp grounds around the lake were closed
because of the beetle killed trees. You can see the relative size of our Rialta vs. the big RVs.
Did the big RV just give birth?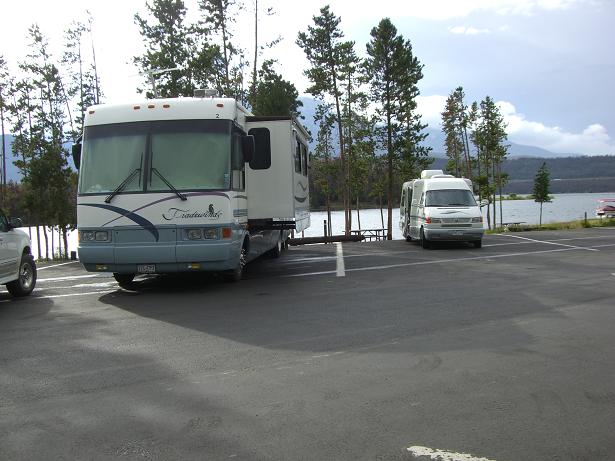 Here are pictures from the inside of the Rialta in case you were wondering what it is like inside..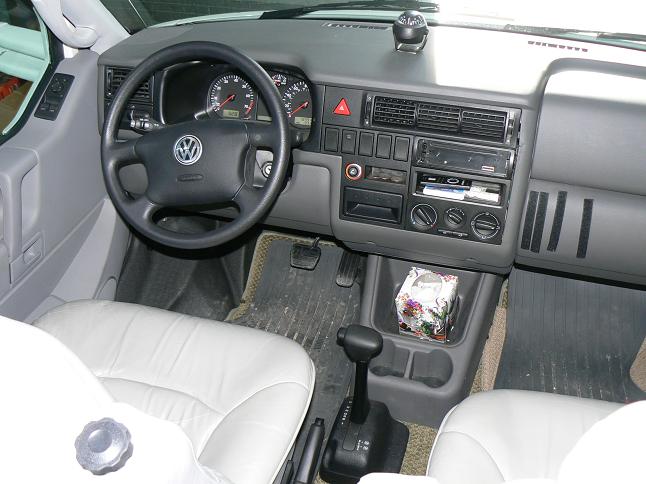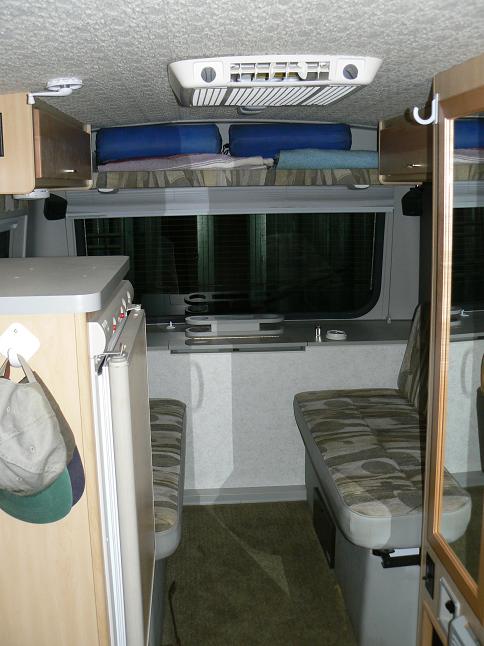 The refrigerator is on the left. It is of adequate size and even has a freezer compartment. It has been known to hold a cold beer or two.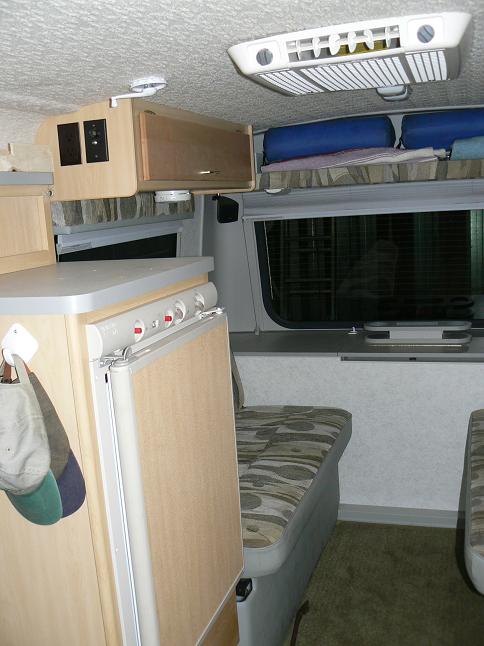 Yes we do have a stove, oven and a microwave. Decadent isn't it (;>).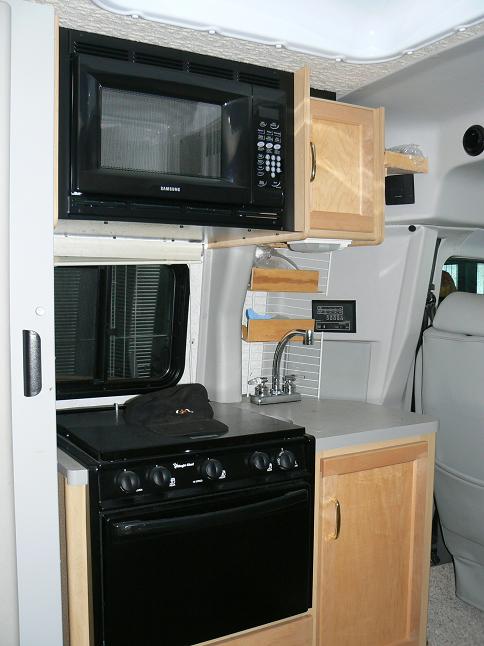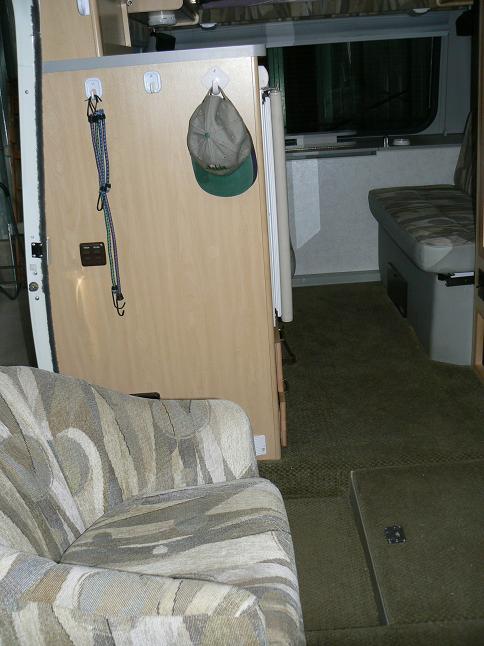 View of the bed which are the couches folded down. When the couches are in the upright position a table can be pulled from a hidden compartment near the back window and setup for dinning.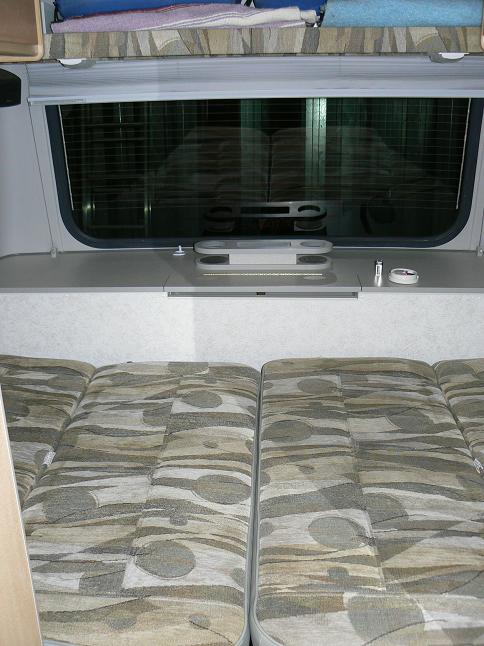 The Rialta has a nice sound system and you can see one of the rear speakers. It even has a built in power amp and sub woofer.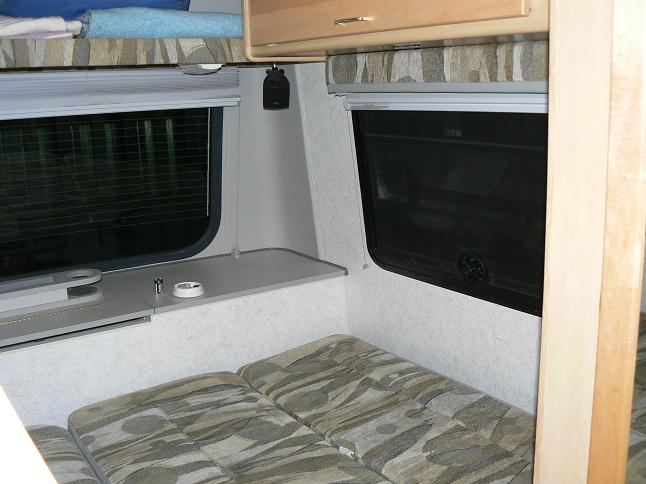 Our Rialta tucked away and cozy in her new home.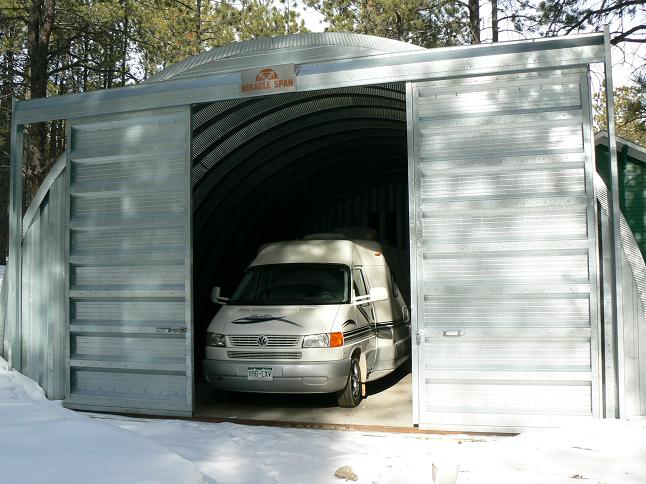 Since having the Rialta and especially since I retired Heather and I have made many short trips with it. We now have a bike rack on the back and we have gone to Taylor Reservoir, Frisco/Dillion area, Fort Collins, New Mexico and many other places for biking riding and RV camping adventures. Its diminutive size allows us to park it in normal camp sites. We found that since we can travel during the week in the summer time we can get the best campsites available. The ones non retired people make reservations for months in advance for use on the weekends.
Good news ! I finally figured out how to put a rack for our
kayak
on the Rialta. $700 dollars of Yakima rack parts later, here is how it turned out. We have a collapsible ladder that we carry in the RV for dealing with the boat.
Here is a picture from our Lake Powell trip in April of 2008.
In the next couple of years we want to drive the Rialta to Alaska and also on a tour of the north east, probably in the fall for the fall colors.

---
---